Wooden Yurts……  The shape of things to come in the UK Leisure industry?
Something's happening in the UK glamping industry and the yurt builders are getting jittery.
It's only been relatively recently that the term "wooden yurt" was coined, (by us, initially) and soon others followed.    One by one, small and independent cabin and hut builders recognised that there's something magical about the humble yurt; and there's something infinitely practical about replacing that canvas with homegrown timber.
Thus, since the launch of the "Rotunda Roundhouse", a unique style of building began to take a foothold in the UK Marketplace and now the cabin manufacturers have started to follow suit… this could only mean one thing.  Could this be the modern equivalent to the 2,500 year old Ger/Yurt which has been oh-so popular on the UK leisure and glamping sites over the last few years? As the pioneers in this field we're pretty confident that this is not a trend but the evolution of an existing popular (but winter-inadequate) structure.
So, if you were to search the 'wooden yurt' term nowadays you may find a good handful of manufacturers who are promoting a circular or octagonal type of shed, hut, cabin, den, pod, BBQ shelter, gazebo… something or other!   We're going to explain what sets one wooden (or timber) yurt from another and the key features you should be looking for to make the transition worthwhile.
So, why would you consider switching from the old canvas variety to the contemporary Roundhouse style of Wooden or Timber Yurt for your glamping or rural B&B business?
Insulation The main attraction when it comes to switching from the canvas style 'yurt' to a wooden yurt is to enable you to start (or boost) trading over the winter.  Canvas Yurts are simply not suitable as winter accommodation units.   (Mainly because they are not insulated and they can get damp).  Similarly, a warm fire may be romantic (when it's lit!) but beware the 'shed' type building with little or no insulation, single glazed windows and zero energy-saving capabilities.  You may just find that your guests will be expecting a warm and cosy winter getaway but are freezing their socks off in a glamorous shed.  Might as well just stick with the old yurt!
Electrics  The type of building you use to replace your yurts will most undoubtedly be geared up to provide a unique and luxury experience.  Your guests may reasonably expect to be able to use a hairdryer/have tea and coffee making facilities in their room and benefit from underfloor heating!  Make sure that you'r builder or cabin manufacturer includes electrics as standard and not as an expensive upgrade.
Functionality Couples and families looking for the 'yurt experience' but more inclined to opt for a hotel room or B&B for comfort and convenience may have found their nirvana with a wooden yurt or roundhouse.  It may be worth considering that your guests may seek the functionality of a Hotel Room.  This means that you would do well to consider integrating an en-suite bathroom, air conditioning, opening dome,  kitchenette, a hot-tub on the veranda and the usual TV and entertainment facilities in your wooden yurt/hotel suite.  A reputable and skilled roundhouse or wooden yurt manufacturer should provide these options for you as part of the design process.
Durability  The Rotunda Roundhouse is (more often than not) designed to Buildings Regulations Standards which means it's not classified as a caravan, shed, pod or cabin. It's built to last. There is a big difference.  If you're serious about investing in a commercial building which is going to replace your yurts and continue to bring you a fantastic return year after year, opt for a solid building with structural certification which you can trust will never, ever fail you.
Sex Appeal  It needs not be said, but, an exquisitely crafted timber-framed eco-building (oh yes, it's so much more than just a wooden yurt!) is one beautiful looking building. With the rough-sawn natural homegrown timber cladding complimenting the handcrafted and lacquered timber windows with monkey tail ironmongery and architectural detailing; this is a building which has a most definite wow-factor. If you're looking for a sexy building which will almost guarantee an astonishing return rate and keep your bookings high – remember that the devil is in the detail.  You can buy cheap (but this always means buying twice!) and your guests may not wish to return unless you can offer them the experience of a lifetime.  We can help you there.

Please have a quick look at our image gallery for some examples of the "Rotunda Roundhouse" for inspiration!
If you were to drive for 1hr 30 mins from Montpellier or Nîmes and deep into the Cevennes Mountains, you may just stumble across Gardoussel; a small, family-run retreat specialising in creative and holistic holidays. Husband-and-wife team Alex and Sharon live on-site with their young family and are helped in the day-to-day running of events, particularly cooking, by Alex's mother Frances.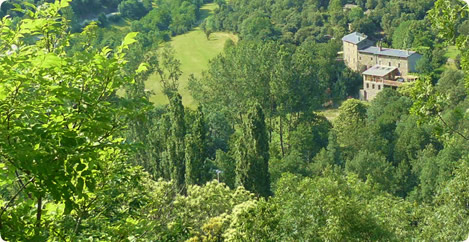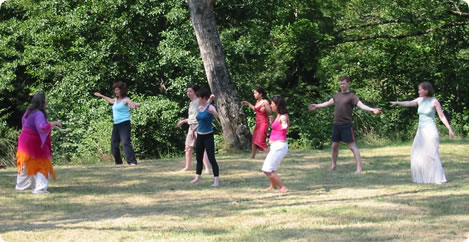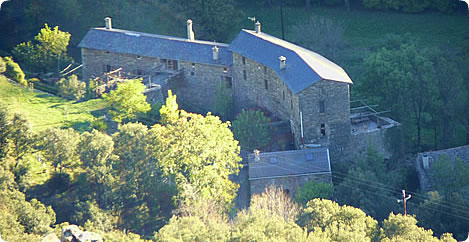 Up until recently they had Gites and Yurts on offer to their guests… until last week! When the Rotunda team arrived.  The first of such expeditions, the Rotunda and three of our men bravely ventured where no other installer from the UK has before.  Despite a few initial hiccups with the British haulage agency everyone arrived on site last week , ready to start building the first French Rotunda "Gaia".
  The retreat is so remote that the panels had to be transferred on the main road from the arctic vehicle to a small trailer in order to make the journey down the small driveway to "Gardoussel".
And here comes the team……  Over the bridge and towards their final destination. (After three days of travelling!) Our Rotunda van is in uncharted territory!
… Our Joiner (Johnny) is clearly enjoying the novelty of being so far from home and has made a new friend already!
This garden room is going to be used as a yoga space and gathering room & it should not cause too much of a stir within the local community as this special building is of a striking similarity to a pre-existing local building in the round called the "pigeon tower".
Look at that 'witches hat' roof….  magnifique!  We love it!
So, once "landed" the floor panels are assembled and affixed onto the prepared concrete slab which Alex and Sharon had kindly prepared in advance!
And of course…. stepped back to have a look at the view!  Oh wow…. what a position for that bell tent!
So the build is underway… the roof trusses are next to go up, after the wall panels are positioned and secured:
… Oh… did we mention the VIEW!?
And… voila! The building is watertight… and ready for some internal work…
You're almost there guys…. keep up the good work and have fun with your new friends at Gardoussel!
We'll update you again… when the gorgeous "Gaia" is complete!
Until then, bonsoir!
From all at Rotunda
x