We're often asked whether you can get a self-build mortgage for one of our buildings… and the simple answer is, yes; you most certainly can!
Just click on the link below and have a chat with these lovely chaps at Ecology Building society about your project (be it round or any other form of modular building kit) and you may very well find that the doors to your self-build adventure may open up to you….
If you're considering installing a toilet in a garden room or on a glamping site with minimal fuss, perhaps one of the water less eco-toilets available in the UK may very well be for you…

It is usually possible (under permitted development) to install a small garden-studio at the end of your garden without requiring planning consent but if your plans involve connecting this building to the mains water, you may then find that a full planning application is required.

The cost of applying for and gaining your planning approval (circa £1,500+) plus digging up the garden to put in a water supply and a sewage outlet, (which may need a pump if the lie of the land isn't suitable) can increase the your capital outlay significantly (several thousand pounds).    Installing an eco-toilet not only avoids all this expenditure, it also means that a toilet can be installed within a couple of hours.

If cost savings aren't enough,  research would also indicate that adding water to human waste is a problematic way to dispose of our sewage and although it's the most common practice it's certainly not the best solution from an environmental perspective.

Composting toilets treat human excrement using biological processes, turning it into organic compost material that can be used to fertilise the soil. They are small-scale, complete waste processing systems. Composting toilets are an excellent example of sustainable design. They provide a safe and effective way to save resources and prevent pollution, whilst saving money and energy for the owner and the community. At the same time they produce a valuable end-product that can be used to fertilise the soil.

Eco-Toilets cater for glamping sites and they state on their website that: "Composting toilets offer a wonderful solution, especially as the 'green' credentials of such toilets can be used in publicity to encourage campers to not only enjoy themselves, but help the environment at the same time! They save huge quantities of water in a world where water is an increasingly scarce resource, and require very little infrastructure. We have now developed a combined toilet and shower cabin, which can be sited almost anywhere, offering a wonderful shower, a smart and pleasant toilet and, if required, a water treatment system to recycle the water and urine output and return it to the cabin meaning very low water consumption too."

Another supplier (WooWoo), who have a myriad range of fantastically cool eco-toilets (as per the picture below) state on their website that:

"We provide waterless, composting and low water toilets for a huge range of applications. From large capacity public toilet systems to compact composting toilets for boats. Easy assembly – watertight – minimum maintenance – no water – no electricity – no chemical products – waste is transformed into a neutral, odour free material – 100% ecological.

Of course, it's possible to contact either of the suppliers mentioned above and ask them to construct you their own style toilet unit for you and provide the toilet as one package.

Alternatively,  we can source the toilet on your behalf and install it into a mini-rotunda to complement your garden-room. The image below is a 2m internal diameter Rotunda with a 100mm wall cavity, single skinned poly carbonate dome and surface mounted lights.

 
Several of our clients have spoken to us about their eligibility and applications for LEADER grant funding to fund their Rotunda project.  Leader Funding is available to local businesses, communities, farmers, foresters and land managers. You can apply to your Local Action Group for funding for projects that create jobs, help your business to grow, and benefit the rural economy, under the LEADER scheme. LEADER grants are delivered via LEADER LAGs and are available to local businesses, communities, farmers, foresters and land managers.
Wooden Yurts……  The shape of things to come in the UK Leisure industry?
Something's happening in the UK glamping industry and the yurt builders are getting jittery.
It's only been relatively recently that the term "wooden yurt" was coined, (by us, initially) and soon others followed.    One by one, small and independent cabin and hut builders recognised that there's something magical about the humble yurt; and there's something infinitely practical about replacing that canvas with homegrown timber.
Thus, since the launch of the "Rotunda Roundhouse", a unique style of building began to take a foothold in the UK Marketplace and now the cabin manufacturers have started to follow suit… this could only mean one thing.  Could this be the modern equivalent to the 2,500 year old Ger/Yurt which has been oh-so popular on the UK leisure and glamping sites over the last few years? As the pioneers in this field we're pretty confident that this is not a trend but the evolution of an existing popular (but winter-inadequate) structure.
So, if you were to search the 'wooden yurt' term nowadays you may find a good handful of manufacturers who are promoting a circular or octagonal type of shed, hut, cabin, den, pod, BBQ shelter, gazebo… something or other!   We're going to explain what sets one wooden (or timber) yurt from another and the key features you should be looking for to make the transition worthwhile.
So, why would you consider switching from the old canvas variety to the contemporary Roundhouse style of Wooden or Timber Yurt for your glamping or rural B&B business?
Insulation The main attraction when it comes to switching from the canvas style 'yurt' to a wooden yurt is to enable you to start (or boost) trading over the winter.  Canvas Yurts are simply not suitable as winter accommodation units.   (Mainly because they are not insulated and they can get damp).  Similarly, a warm fire may be romantic (when it's lit!) but beware the 'shed' type building with little or no insulation, single glazed windows and zero energy-saving capabilities.  You may just find that your guests will be expecting a warm and cosy winter getaway but are freezing their socks off in a glamorous shed.  Might as well just stick with the old yurt!
Electrics  The type of building you use to replace your yurts will most undoubtedly be geared up to provide a unique and luxury experience.  Your guests may reasonably expect to be able to use a hairdryer/have tea and coffee making facilities in their room and benefit from underfloor heating!  Make sure that you'r builder or cabin manufacturer includes electrics as standard and not as an expensive upgrade.
Functionality Couples and families looking for the 'yurt experience' but more inclined to opt for a hotel room or B&B for comfort and convenience may have found their nirvana with a wooden yurt or roundhouse.  It may be worth considering that your guests may seek the functionality of a Hotel Room.  This means that you would do well to consider integrating an en-suite bathroom, air conditioning, opening dome,  kitchenette, a hot-tub on the veranda and the usual TV and entertainment facilities in your wooden yurt/hotel suite.  A reputable and skilled roundhouse or wooden yurt manufacturer should provide these options for you as part of the design process.
Durability  The Rotunda Roundhouse is (more often than not) designed to Buildings Regulations Standards which means it's not classified as a caravan, shed, pod or cabin. It's built to last. There is a big difference.  If you're serious about investing in a commercial building which is going to replace your yurts and continue to bring you a fantastic return year after year, opt for a solid building with structural certification which you can trust will never, ever fail you.
Sex Appeal  It needs not be said, but, an exquisitely crafted timber-framed eco-building (oh yes, it's so much more than just a wooden yurt!) is one beautiful looking building. With the rough-sawn natural homegrown timber cladding complimenting the handcrafted and lacquered timber windows with monkey tail ironmongery and architectural detailing; this is a building which has a most definite wow-factor. If you're looking for a sexy building which will almost guarantee an astonishing return rate and keep your bookings high – remember that the devil is in the detail.  You can buy cheap (but this always means buying twice!) and your guests may not wish to return unless you can offer them the experience of a lifetime.  We can help you there.

Please have a quick look at our image gallery for some examples of the "Rotunda Roundhouse" for inspiration!
If you were to drive for 1hr 30 mins from Montpellier or Nîmes and deep into the Cevennes Mountains, you may just stumble across Gardoussel; a small, family-run retreat specialising in creative and holistic holidays. Husband-and-wife team Alex and Sharon live on-site with their young family and are helped in the day-to-day running of events, particularly cooking, by Alex's mother Frances.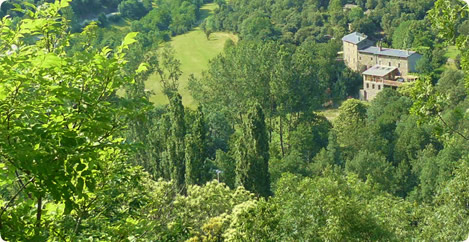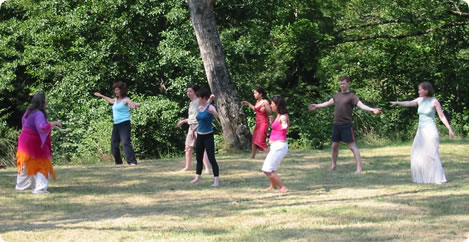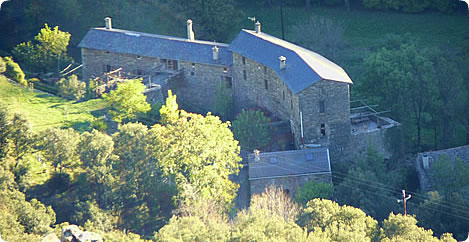 Up until recently they had Gites and Yurts on offer to their guests… until last week! When the Rotunda team arrived.  The first of such expeditions, the Rotunda and three of our men bravely ventured where no other installer from the UK has before.  Despite a few initial hiccups with the British haulage agency everyone arrived on site last week , ready to start building the first French Rotunda "Gaia".
  The retreat is so remote that the panels had to be transferred on the main road from the arctic vehicle to a small trailer in order to make the journey down the small driveway to "Gardoussel".
And here comes the team……  Over the bridge and towards their final destination. (After three days of travelling!) Our Rotunda van is in uncharted territory!
… Our Joiner (Johnny) is clearly enjoying the novelty of being so far from home and has made a new friend already!
This garden room is going to be used as a yoga space and gathering room & it should not cause too much of a stir within the local community as this special building is of a striking similarity to a pre-existing local building in the round called the "pigeon tower".
Look at that 'witches hat' roof….  magnifique!  We love it!
So, once "landed" the floor panels are assembled and affixed onto the prepared concrete slab which Alex and Sharon had kindly prepared in advance!
And of course…. stepped back to have a look at the view!  Oh wow…. what a position for that bell tent!
So the build is underway… the roof trusses are next to go up, after the wall panels are positioned and secured:
… Oh… did we mention the VIEW!?
And… voila! The building is watertight… and ready for some internal work…
You're almost there guys…. keep up the good work and have fun with your new friends at Gardoussel!
We'll update you again… when the gorgeous "Gaia" is complete!
Until then, bonsoir!
From all at Rotunda
x
We came across this book today and just had to share it with you! If you are as passionate as we are about Circle Houses, Yurts and the impact of form on our psychology, along with the anthropological story (which underpins the whole concept of living in the round), this book is for you:
"Among nomadic peoples, round-shaped homes, echoing natural forms, have sheltered families since the dawn of recorded time. The natural world is filled with circles, but it's surprising how unusual circular houses are in industrialized society. In our disconnected world, the circle has given way to the box.As David Pearson explains in his introduction, "Like our nomadic ancestors, many of us have a deep yearning to roam with the seasons and be close to nature and the cosmos. The traditional forms of the yurt, tipi, and bender are the apogee of this experience. . . . Nomadic populations live in some of the most inhospitable and barren regions of the world and this is why they are nomads. Whether it be the deserts of the Sahara and Gobi, the steppes of Mongolia, or the polar tundras, these vast areas are either too hot and arid or too cold and windswept to be cultivated. An African grass-covered hut, a Romany gypsy 'bender, ' an Asian yurt, or a Native American tipi are all perfect lessons in appropriate design and sustainable building. Refined over generations, they are simple yet sophisticated, beautiful and comfortable."Remarkable for their economy, resilience, and portability, these structures have continued to exert a powerful appeal in modern times. And beyond practicality, what the circle dwellers in this book speak of most eloquently is the incomparable spiritual resonance of round homes, which "represent the universe in microcosm: the floor (Earth), the roof (sky), and the hole in the roof (the sun).""Circle Houses" is a fascinating glimpse of tradition meeting timelessness, filled with stories of 21st-century nomads and complete with basic instructions for designing and constructing your own yurt, tipi, or bent-frame tent."
holiday
---
"It's official: beer is out, carrot juice is in. While the newspapers tell us that 29 UK boozers now close every week, smoothie bars and organic cafes continue to pop up, and it seems our appetite for spiralising, juicing and detoxing just can't be sated.

It's affecting decisions about how to holiday, too. The Global Wellness Institute reports the worldwide wellness market has grown 74% in the past four years, and it's now worth more than $439 billion, which makes it one of the fastest-growing sectors in travel." Says Aby Dunsby of Travel Weekly  in their article released online yesterday.
If the true nature of the traditional holiday were to 'take a break' to unwind and recover from the daily stresses of life, there can be little worse than spending that well deserved time detoxifying your body and mind and spending some much needed TLC on yourself…..  An annual MOT if you wish! Eco therapy anyone?
Being outdoors and immersed in a beautiful environment is essential to our mental health and wellbeing and synonymous with the fundamentals of holistic practices.  Wellness holidays focus on a wide range of holistic treatments and fitness practices such as Yoga and Pilates , whereby Eco therapy improves mental and physical wellbeing by supporting people to be active outdoors doing gardening, food growing or environmental conservation work and other activities in nature.  Both combined is a win-win scenario! (This ties in to our previous blog about eco therapy and eco-tourism in particular).
There seems to be collective appeal towards eco therapy and wellness within a significant group consumers within of the global tourism industry and the global growth of international 'wellness tourism' is simply unmistakable.   It may be that we are paying more attention to our well being or perhaps an indication that we have so little time to focus on our well being in our day-to-day lives that we are determined to cram some TLC in whilst we get the opportunity to take a break.  Whatever it is, it's working.      Just a quick scan through the popular website, "HEALING HOLIDAYS" gives us a valuable insight as to the scale and diversity of the offerings of exclusive resorts all over the world, exclusively marketed to the body and mind conscious British public seeking out eco therapy.     Healing Holidays is the UK's leading independent Spa specialist, and here is a list of their categories:
Their top Five Rejuvenating Retreats are the Vana Personalised Programme (India),  SHA Wellness Clinic Rejuvenation Programme (Spain), Ayurveda Resort Sonnhof Fountain of Youth Rejuvenation Week, Bad Ragaz Therapeutic Relaxation Programme (Switzerland) and the Kamalaya Comprehensive Detox & Rejuvenation (Thailand).
When browsing news articles online, there was an amazing article in the Australian "Perth Sunday Times" which states:
"Samantha Lippiatt, from Health and Fitness Travel says "Worldwide, it's growing by 9 per cent per year, nearly twice as fast as regular tourism."

According to the Global Wellness Institute industry think-tank, the rapidly emerging sector is expected to be worth $930 billion internationally by 2017.  Health and Fitness Travel, which originated in the UK, opened its Australian office in 2014 in response to growing demand.  Lippiatt says the business's Australian clients – three quarters of whom are women aged 35 and up – are looking for a holiday that delivers stress release.

"They're usually managing emotions and big life changes. We get a lot of interest around big birthdays, during a divorce or if they've been retrenched," she says. "Something big is happening in their lives, and they want to invest in making themselves feel better"    According to Lippiatt, feeling better encompasses mental and physical health.

"People want to come back feeling like they've had a holiday," she explains. "With a fly-and-flop trip, everything is done in excess – you drink all the drinks, eat all the food and you're exhausted when you return. Now people want to create some space for themselves: to sleep, eat well and have a digital detox is a luxury these days. A wellness holiday is an opportunity for people to do that thing they've been saying they're going to do, like getting rid of insomnia, or starting a fitness regime."

The trend is broadening out, with active family holidays on the rise and healthy honeymoons becoming more popular."
So, if you're still considering starting that glamping site, remember, that with it's emphasis on health, wellbeing (eco therapy) and sustainability you may very well be part of that astonishing growth curve we can see spiralling out in the tourism sector.   But don't just take our word for it, if you do your research you may find an abundance of information which verifies our claims that "Traditional Holidays are OUT and the sustainable, spiritual, uber-trendy eco-holiday is IN" So, ditch the old ideals (and old buildings for that matter) and embrace the roundhouse, an eco therapy haven – we're behind you every step of the way. 
Landowners:
Why you should be thinking about setting up an eco-retreat in the UK
The rise of UK Tourism, Spirituality, Conservation & Wellness – and how you can be a part of it.
Are you looking to generate revenue from your land or wishing to re-structure your existing rural leisure business? Do you have a beautiful, natural location rich in trees, wildlife and biodiversity to offer to discerning guests wishing to escape city living and connect to the environment?
If so, you should really be thinking about joining the pioneers of the eco-tourism industry which is beginning to emerge as a likely forerunner in the UK Leisure sector over the next decade and we'll show you why.
There are some key trends that are worth looking into before jumping into a new venture, we'll explain which are the ones we think show true promise and why.
We'll be breaking this blog into four segments
PART 1 – Tourism
PART 2 – Eco-Tourism
PART 3 – Spirituality
PART 4 – Ecotherapy & Wellness
TOURISM
The UK Leisure industry is one of the fastest growing industries; currently estimated to be worth over £200 billion to the UK economy and forecast to be worth £257 billion by 2025.    
One of the contributory factors could be the a rise in the 'staycation' holiday market which really started picking up some steam in 2010 and in particular, the Glamping industry (think Yurts, cabins, tree-houses, upcycled Gypsy Caravans and exquisitely crafted Shepherds Huts and you're on the money).
You needn't spend too much time analysing market reports or VisitEngland statistics to see what's happening, for this trend is exemplified by the popularity of British Television programmes such as "George Clarkes Amazing Spaces" and the emergence of uber-fashionable and super successful UK Glamping Travel Agencies such as Alistair Sawday's "Canopy and Stars" and Tim Rees "Quality Unearthed" at the forefront of the trend. (And it's not a trend, by the way, our sources indicate that this is most definitely a growth curve which looks set to continue).
A large percentage of people are now trading in their traditional 2 week vacation abroad in favour of several long weekend-breaks and mini-breaks to work around their careers/businesses and families.
 Oliver Smith, digital travel editor  of the Telegraph writes:
"Travelodge now claims that, despite recent poor weather, holidays at home are back in demand.  Its annual holiday report, which featured a survey of 3,000 adults, revealed that 65 per cent of people would be taking a summer holiday in Britain this year – up from 41 per cent last year, and 35 per cent in 2011."
In November we exhibited at the 'Farm Business Innovation Show' and boy, they should've re-named that show "Glamping Innovation Show" for there were more leisure buildings and glamping/self-catering cottage travel agents present than any other type of product or service.
The sheer diversity of overnight accommodation units now being utilised by farmers and landowners to generate a return is quite staggering. The most desirable are Safari Tents, Shepherds Huts, Modular Cabins, Eco-Lodges, Treehouses, Yurts, eco-pods, bell-tents, Ti-Pi's, gypsy caravans, timber-framed luxury cabins and modular garden buildings, bbq huts and of course, the Rotunda. It makes sense to select the type of building which best suits your business and client base.
Many people rent out small cabins and yurts from £650.00 for a weekend, £2,000 for a week or £10,000.00 for a year (Amy Andrew: www.thisismoney.co.uk/)

If you had a beautiful paddock, for example and a budget of £5,000.00 for your capital investment it would be worth considering a tent or a Ti-Pi for an authentic glamping retreat. Conversely, a landowner of a country estate with a 4* hotel wishing to expand on their current offering may be more inclined to budget ten times this amount for an exclusive lodge, treehouse or Roundhouse.
(2)
ECO-TOURISM
This leads us into the Eco-Tourism industry, cited to be the fastest growing sector within the rapidly expanding tourism industry.   A common driver in the Glamping and Outdoor Experience Staycation holiday theme is the pre-requisite for a beautiful, natural rural location in which guests can unwind, recharge and immerse themselves in nature.
Tom Dixon, managing director of Sawday's Canopy & Stars says: 'In general, travellers are starting to look for more experiential holidays. They want to try something different, something that's a million miles from what they do in normal life. People really do enjoy getting back to nature and a more relaxed kind of holiday, but we all like a bit of comfort too."
The Definition
Ecotourism is now defined as "responsible travel to natural areas that conserves the environment, sustains the well-being of the local people, and involves interpretation and education" (TIES, 2015). Education is meant to be inclusive of both staff and guests.
Principles of Ecotourism
Ecotourism has become one of the fastest-growing sectors of the tourism industry, growing annually by 10–15% worldwide (Miller, 2007).
Ecotourism is about uniting conservation, communities, and sustainable travel.
With environmental conservation being a highly emotive area for a large percentage of the population, there are many of us who choose to travel on their holidays with a primary objective in mind; to engage in volunteering on a wildlife conservation project. Creating a memorable experience whilst learning is a satisfying adventure and there are some wonderful organisations and charities operating within the tourism industry who organise trips and adventures to enable the environmentally driven holidaymaker to gain experience in the fields of permaculture, bushcraft, organic farming, forestry practices, wildlife conservation and marine biology to name but a few.
One of the best examples of a non-profit organisation operating in the field of international eco-tourism is Ecoteer Responsible Travel, founded in 2005 by Daniel Quilter, a marine biologist, after a volunteering experience at Sukau in Sabah, Malaysian Borneo.  Ecoteer Responsible Travel formed to help concentrate resources to develop meaningful volunteer and ecotourism experiences which could help solve the specific issues for each project.
As Daniel states on his website "Ecoteer.com benefited from the UK recession as more people had free time and were looking for low cost long term projects and is now a favourite amongst students and career breakers looking for work experience in the ecotourism, environmental awareness and conservation sectors. The Ecoteer.com website supports over 200 independently-run grass root organisations in over 50 countries and by 2011 Ecoteer had over 1,500 subscribing members."
And it would appear that the ecotourism trend is establishing itself within the UK tourism industry.
'Green Traveller" who list over 700 green places to stay (that can be reached without flying within the UK, Ireland and continental Europe) was founded in 2006 by travel journalist Richard Hammond, the former ecotourism journalist for The Guardian and author of "Clean Breaks – 500 New Ways to see the world".
Their site UK Green Traveller is a fantastic resource which features eco-friendly places to stay and holidays which can be conveniently reached by bike, public transport, train or ferry.
They also try to link these up with a range of things to do in the local area, including Local Food & Drink, Farmers' Markets, Family Days Out, Festivals, Museums, Gardens, Art and Craft, Walks, Cycle Rides and Watersports, Wildlife Watching and more.
When we phoned GreenTraveller earlier on today to quiz Richard about his perspective of this industry he stated: "We've seen a definite increase in not only the amount of sites advertising with us but in the interest in this style of holiday. There are not only more environmentally friendly places to stay in the UK but the amount of initiatives which the proprietors are installing are also on the increase, a primary example of this is the installation of green technology . Many are upgrading facilities which place an emphasis on maximising the efficiency of their energy, assist with the minimisation of waste alongside the implementation of alternative water systems."
This information alone, combined with the plethora of information available in the media and via independent sources is indicating to us that there is real promise to be found if you can offer the following to your prospective guests:
Authenticity

Clean, fresh air, organic & locally grown produce

An unspoilt, natural location (preferably with water)

An experience which connects them with their inner nature (or inner-child ie: men=treehouses!)

A valuable learning experience, whether this is learning about the local farmers market or learning how to rely on green-technology (or zero technology!)

An opportunity to make unique memories

It shouldn't be too difficult for you to start drafting up the pro's of an eco-retreat in your business plan for the future, and gaining planning permission could be more achievable if you were considerate of both conservation and an opportunity to boost the local economy.                                                                         

Of course, this wouldn't be a Rotunda Blog if we didn't also mention that it would be highly advisable to ensure your overnight accommodation buildings (or structures) are quirky, memorable and built to provide a level of comfort which correlates to the return you'd like to generate back on your investment.  Naturally, there is no better building for an eco-retreat than the Rotunda!

Our next Blogpost will conclude with:

PART 3 – Spirituality (yep, yet another growing trend)

PART 4 – Ecotherapy & Wellness (you guessed it!)