An early intervention project is underway in Salford (North West England) tomorrow and it's a rather splendid example of how a City Council and a well-known community charity can come together to support school children with mental health issues.

The workshop model called "Mindsteps" is an early intervention, school based series of workshops aimed at young people who have expressed a need for support or have been referred for low level mental health issues such as depression, anxiety by a school, youth worker, parent or social worker.

This course is specifically designed for those young people who are displaying negative behaviours which are often linked to low self-esteem and lack of resilience including anti-social behaviour, low level drug and alcohol use or are offending/ at risk of offending.

Schools often report that a significant majority of young people who are at the risk of underachieving face complex well-being issues, but fall below the threshold for CAMHS (Child and Adolescent Mental Health Services. CAMHS are the NHS services that assesses and treat young people with emotional, behavioural or mental health difficulties).

The first of such workshops is being delivered tomorrow by the Groundwork MSSTT charity (Groundwork Manchester, Salford, Stockport, Tameside and Trafford Ltd.) as part of a wider project to address mental health issues with our young people.

A group of young people from inner-city Salford will be experiencing activities such as;

Barefoot Walking

Building Shelters

Fire Making (with the mandatory hot chocolate & marshmallows of course!)

Natural Paint Making

Meditation

Through exploration, activity based, experiential learning and one to one/group discussion; young people will learn to identify triggers, factors and indicators of their own mental health needs, and indeed, that of their peers.  Areas covered include:

Brain Chemicals – What they are and how they can affect your mood

Maslow's Hierarchy – What do you need to feel good?

Attachment Assessment – To gain a basic understanding of the young persons attachment style in order to best respond to their individual needs.

Essentially, the activities in the workshops are designed to give young people the tools to deal with stressful situations themselves in with "achievement coaching" (based on a tried and tested Groundwork model)by a qualified/experienced youth worker and by positive experiences, using the outdoor environment as a therapeutic tool.  

We've blogged in the past about the 'Forest Schools' concept, adopted by an ever-increasing number of Schools all over the UK. This could be the next step towards alleviating our young people from some of the mental health issues they may be facing, by using the natural environment and therapeutic outdoor activities to assist them with their understanding of their challenges and the road to recovery.    

To Groundwork MSSTT and NHS Salford Health Innovation Fund (total fund of £250,000.00 available, for such projects – apply here), we salute you.  That's one fabulous idea. 

 

 

 
WHAT IS AN OUTDOOR MODULAR CLASSROOM?

It's an extension to your existing school, but a stand-alone outdoor modular building which has more in common with the landscape and trees surrounding it than the traditional bricks and mortar building which your pupils may usually associate with the school classroom. You may be considering extending your current building or re-modelling an existing space but there are at least 10 REASONS why an outdoor modular classroom is better & more beneficial for your school.

1) It looks great

Let's cut to the chase here. There are another 9 reasons to go so please don't judge us for being quite so fickle from the outset but quite simply, many people find the rustic charm of a timber-framed modular building waaaaaay more attractive than a brick building or it's contemporaries. Practicality doesn't have to mean a compromise on beautiful aesthetics. With an outdoor modular classroom you have a beautiful piece of modular contemporary architecture, fashioned in the style of a log cabin or woodsmans shed. It's outdoorsy. 

2) You're, indoors, outdoors!

This requires little explanation, but let's just say that anyone who doesn't agree that children spending more time surrounded by nature is both necessary and beneficial is probably so disconnected from the natural world that there is little hope left for them.

3) It's filled with natural light

Oh, the roof-light dome and the 360 degrees windows (if you so wish) wrapped around the building! That, can't be achieved with any other type of building. Creativity, imagination and inspiration thrive in a light-filled, inspiring environment.

4) Children learn first hand what can be built and achieved from natural resources.

At last, a building which children can identify with! The natural world which we try so hard to teach them about can actually visibly benefit them – the lightly oiled exposed timbers in the roof and the rough-sawn British cladding wrapping around the exterior, this building has more of the intrinsic qualities of a boat than that of a typical classroom. Your pupils can see the knots and twists within the timber which forms their classroom, and they can relate to the twists and knarls of the trees surrounding them.

5) A celebration of unique shape

Now, who wouldn't want to learn and teach in a big, round, warm hug all day?! The circular form of one particular timber-framed modular outdoor classroom we know of feels like a big embrace, it's walls wrap around you in a way that no other building can. This type of construction is only possible due to the advances within timber-framed manufacturing processes.

6) Encouraging a passion for the natural world

Your students are the next generation. We're living in the Anthropocene period, one of unprecedented devastation of the natural world. This isn't a plea to sell a product, this is a genuine, visceral, heart-tugging longing and pleading to see children engaged and supported in wooden, natural, low-impact buildings which inspire a connection to each other and the natural world. It feels like we're running out of time to turn our civilisation around. On a practical level, features such as the green, natural, sedum roofs have a number of environmental benefits as well as encouraging bees and insects.

7) Cost benefits

Have a chat with us about the cost of installing a modular outdoor classroom – we promise you that it's much, much more affordable than a brick-built extension.

8) Energy Saving

Being a high-energy saving building, utilising a modular circular timber-framed classroom may save your overall energy costs. The circular footprint is the most energy efficient (less exterior surface area than a rectilinear building) and is a heavily insulated eco-building – the requirement for heating

9) Unique space for out of hours events

This building is a wonderful social space. Who wouldn't want an iconic eco-building for use on fund-raising days, staff events, school awards ceremonies or to lease out to local yoga or adult-education groups?

10) Flexibility, flexibility, flexibility!

Ok, so, it really is the MOST flexible option for a school, this type of modular timber classroom can be installed like a giant piece of flat-pack furniture, in about 10 days! It can be leased and returned after 5-10 years, it can be re-located if you so wish and it can be installed in a remote woodland location and run off a generator.

Really, it's super-flexible.

And this list is not exhaustive…….!

If you're considering a modular building for your outdoor classroom you can't possibly benefit your school more than utilising a contemporary, ecologically friendly and responsibly constructed Roundhouse by Rotunda.

Call us today for your free non-obligation site survey and discover yet another myriad of reasons why a timber modular classroom would benefit your school.
New analysis by the Local Government Association estimates that it will cost £12 billion to create sufficient places for the 900,000 extra pupils expected to start school in the next decade.

Combine this with the recent doubling of the 15 hours free childcare (up to 30) scheme set to roll out this September, a greater number of schools are also volunteering to take on nursery children thus pushing the requirement for more practical space and new or updated buildings…  

According to Nursery World Magazine "Schools have turned to innovative solutions to cope with demands on space. They include a primary school in Northumberland that has bought and converted a double decker bus into classroom, after running out of space in the school building, with toilets and cupboards converted into teaching spaces."

For those Schools who need something a little more substantial however, perhaps a new building or extension is in order?!

But alas! The traditional method of creating new or extending existing buildings (with bricks and mortar) is costly, time-consuming and… well.. messy.    

Schools and nurseries are a hotbed of activity, filled with bright young things which don't quite care for their school to be turned into a 12 month long building site. 

Thankfully, for many of us, technology has allowed the construction industry to smarten up it's act.  Partly fueled by the wanton admiration of the Scandinavian folks and their "Vorsprung Durch Technik" approach to their buildings.  Flat-pack is not limited to the stores of IKEA.. oh but building techniques of precision engineered laminated timbers are now pretty commonplace, and it's easy to see why. 

This new style of building is designed and constructed in a factory, not on a building site, and the components are engineered, not 'built'.

Moving more into the realms of 'manufacturing' than 'construction', Modular or Outdoor buildings for schools are now created in small segments or 'cassettes' which come together to form the whole on site.

Exactly like IKEA.

What's more, at roughly £1,000-1,2000.00 per m2, a modular or prefabricated educational building or classroom may be much more affordable than a portakabin or a traditional building.

Win-Win!

So if you, or a school you know is struggling with space, considerate of budget and is looking for a fast, efficient installation, please do let them know – the future is here. All you need to do, is design it.

(And call us, we'll design it with you!!)

 

 
If you're planning on extending your home by installing a garden room it may now be possible for you to build to a much larger size than was previously possible due to a recent change in planning legislation.
Permitted Development guidelines now state that:
Providing that the total area covered by your new buildings does not exceed 50% of the total area within the curtilage of the garden, you can build to any floor area. (This 50% should take into account any other garden sheds/outbuildings you may already have).
Below is the full list of caveats found on www.planningportal.co.uk
No outbuilding on land forward of a wall forming the principal elevation.
Outbuildings and garages to be single storey with maximum eaves height of 2.5 metres and maximum overall height of four metres with a dual pitched roof or three metres for any other roof.
Maximum height of 2.5 metres in the case of a building, enclosure or container  within two metres of a boundary of the curtilage of the dwellinghouse.
No verandas, balconies or raised platforms.
No more than half the area of land around the "original house"* would be covered by additions or other buildings.
In National Parks, the Broads, Areas of Outstanding Natural Beauty and World Heritage Sites the maximum area to be covered by buildings, enclosures, containers and pools more than 20 metres from house to be limited to 10 square metres.
On designated land* buildings, enclosures, containers and pools at the side of properties will require planning permission.
Within the curtilage of listed buildings any outbuilding will require planning permission.
*The term "original house" means the house as it was first built or as it stood on 1 July 1948 (if it was built before that date). Although you may not have built an extension to the house, a previous owner may have done so.
These new changes also apply to single-storey rear extensions that are due to be completed by 30 May 2019 (see the associated neighbour consultation scheme).
This means that you may now build single storey extensions without planning permission, providing that:
The extension does not sit forward of the principal elevation.Materials should be similar.
Where it is within 2m of any boundary, the eaves cannot be higher than 3m, and no more than 4m in height otherwise.
Rear extensions — no more than 4m in depth (detached house) or 3m in depth (semi-detached or terrace).
Side extensions — the width of the extension must not be greater than half the width of the original dwelling. Side extensions are not permitted on Article 1(5) Land (e.g. AONB, Conservation Areas).
It's definitely worth keeping in mind that the above criteria apply to the physical structure and location of a garden room or extension but the 'intended use' is a critical component when it comes to compliance.
When it comes to outbuildings, the use should always be 'incidental' to that of the home, ie: home office/art studio/music room etc.
Unfortunately Garden rooms under permitted development cannot be used for commercial B&B purposes neither can they be used as granny annexes or residential accommodation!
Please do give us a call or pop over to the planning portal if you have any questions on this subject, although we don't claim to know it all, we have several decades worth of experience with the Local Authorities and we can certainly try to assist you where we can.
It was with much glee that we checked back on our client in Derbyshire to see how she was getting along with her new site of 'Glamping units' (AKA Rotundas!) on her idyllic site in the beautiful Derbyshire Dales National Park.

Not only has she set a precedent for a planning approval in a National Park for 3x lodge units as an alternative tourism destination, but she's taking bookings faster than you can say 'Roundhouse' and is setting the trend for the new style of luxury-escapes (conied the "Four Seasons Lodge" by travel agents) style demand seen on the rise in the UK.

They've only really been up and running since April but are already booked up on all three units every weekend and have amassed some wonderful testimonials!

Here are two of them:

❝ Peaceful, comfortable, cosy;  the roundhouse ticked all the boxes for a relaxing short break immersed in the beautiful Derbyshire countryside. We had taken hot water bottles and extra thick jumpers, but didn't need any of them, as the underfloor heating keeps the roundhouse pleasantly warm all the time. Tamsyn's warm welcome and the complimentary homemade bread and cookies, plus milk and butter in the fridge, made our stay even more special. We look forward to a return visit. ❞

❝ The roundhouse was just amazing!!! It had everything we could have ever wanted in it and made us feel like we had properly escaped everything for a couple of days (which was the plan). The whole place was spotless, the bed was so comfortable, the underfloor heating was lovely to wake up to, home-made biscuits and freshly baked bread to greet us and in general the site is so peaceful it felt like we were there alone 🙂 All just perfect! Pam was such a great host and cant recommend this place enough. We cant wait to book to go again 🙂 If you're looking and considering the roundhouses to stay then get it booked straight away because you wont be disappointed. ❞

So if you're thinking about installing a Rotunda in your garden or school please head over to her website (http://www.netherfarmroundhouses.co.uk/accomodation.html) and book yourself a couple of nights to see for yourself how the Roundhouse feels before you jump in!
………..Have you been thinking about whether you should buy a yurt for your school or nursery?

Could this be the quick-fix solution you've been looking for for the additional space requirements for the 30 hours free childcare scheme?

…………STOP RIGHT THERE! 

It's a romantic idea alright, and if you DO buy a yurt, it's certainly going to be cost-effective, eco-friendly and the children will love it….. providing it's not winter (which, in the UK seems perpetual) and providing that you don't need insulation, or electrics, or a washbasin…. needless to say this probably wouldn't comply with any buildings regulations or codes of practice usually required for commercial establishments.

So really, let's get to the bones of it.

It's a tent.

Essentially made up of garden trellis, canvas and supporting lightweight roof poles with a pretty wooden crown at the top upon which rests a clear plastic sheet for a rooflight.

Wonderful for a night away with loved ones, sitting around a campfire and drinking wine, but, it's suitability as a classroom or nursery environment is somewhat questionable.

A lightweight and temporary structure is of course easier to sneak under the radar of the local planners without giving too much consideration to seeking planning approval (though, I must warn you, planning approval must still be sought if you buy a yurt for a school or childcare business), and of course it's assembled in a jiffy and can be a magical space for storytelling….  but it's not a classroom for a school. Or if it is, it's an 'outdoor classroom' and one which is seasonal.

With the average cost of a yurt coming in at around £10,000.00 plus the additional funds required to lay the groundworks/decking, source furniture and prepare the site you may be looking at around about £15,000.00 for the whole kit and caboodle.

Considering that a modular, timber-framed classroom building would cost you at least double that, you are indeed making a wonderful saving.  But of course, these are the reasons it's half the price of a timber school building:

It can only really be used for part of the year, in the summer months – for it's not insulated and the walls are…… canvas
Heating options are limited – open flame is dangerous in a canvas structure, you may not have electricity for alternative options
The canvas needs re-proofing, tightening and regular maintenance
Mould and mildew has been known to creep up the walls
There are no windows
Condensation issues can arise
God forbid you face gale force winds…. A yurt can be (at best), flappy and wobbly and (at worst), prone to flying away!

Now, I'm sure you know what's coming but, indulge me for a moment and allow me to list a whole ream of benefits to be made by investing more into a permanent, timber-framed school building which is designed for the purpose you're seeking.   For really, there is no comparison.

Timber-framed, eco-friendly, Buildings Regulations compliant Roundhouses are….

Insulated, Insulated, Insulated!! The walls are over 25cm thick.
Finished internally with primed and painted internal wall linings, architraves, cover trims and high-spec detailing, behind which are damp-proof membranes &  service cavity.
Provided with large, Argon filled, low-e, toughened, double-glazed windows – from treated softwood to UPVC or powder coated aluminium, all windows are high-performance.
Feature a gorgeous double glazed polycarbonate (or glass on request) 90cm diameter rooflight dome in the cathedral roof
Include Full electrics, unlimited double-sockets, smoke detectors, GU10 LED lighting systems on a dual array with dimmer switches as standard
Can be intergrated with ethernet ports, underfloor heating, interactive whiteboards, InfraRed heating panels, combi-boilers and bathroom/w/c, kitchen facilities
Designed to have a lifespan which would probably exceed that of most of us reading this blog
British designed, british built, utilising british timber and a nurturing yet practical building.

So, good luck with your expansion, and please, do still buy a yurt for your school, but make sure it's a timber-framed one, a permanent one and a beautiful one.

Called, 'Rotunda'.  

Enjoy this wet, windy weather!!
In his new book The Nurture Effect: How the Science of Human Behavior Can Improve Our Lives and Our World,  Psychologist Anthony Biglan describes how interventions aimed at creating nurturing environments could help solve some of society's most stubborn, harmful, and costly issues.   Crime, delinquency, depression, and heart disease are often, he explains, the outcomes of environments that fail to promote well-being.

According to Biglans research, we have the capacity to increase increase societal well-being by creating environments that minimize socially and biologically harmful conditions, teach and promote prosocial behavior, limit destructive behaviors, and support individuals in pursuing their values.

By cultivating compassionate, positive, nurturing environments we can raise the standards of living, improve cognitive development in our chidren, increase education, reduce violence and prevent crime.

"Anthony Biglan pulls out the common threads to show that it is possible to make families, schools, and the larger social context more nurturing and ultimately to create nurturing environments so vital to well-being and to preventing widespread harm"   Lisbeth B.Schorr senior fellow at the centre for the Study of Social Policy

Within the framework of this book, Biglan calls for a public health movement akin to the smoke-free campaign of the last 50 years. He suggests the science behind nurturing environments could drive a similar shift in public health and well-being.

Mental health is a hot-topic in the media at the moment; The Duke and Duchess of Cambridge and Prince Harry are spearheading the Heads Together campaign to end stigma around mental health and there've been articles spinning around in the press about the importance of recognising the importance of addressing mental health issues on a national level.

"Through our work with young people, emergency response, homeless charities, and with veterans, we have seen time and time again that unresolved mental health problems lie at the heart of some of our greatest social challenges."

In the recent podcast with Prince Harry, he openly states that it became blindingly obvious to him through work with war veterans that "even if it was a small problem in your youth, something (Afghanastan, in a lot of these cases) was the trigger for these issues to come forward".

It would seem this topic is also well on trend with other researchers (John Read & Richard P. Bentall) coming up with the same conclusions and implications of childhood wellbeing (or lack of it):

Childhood adveristy and mental health problems  The British Journal of Psychiatry (2012)

Many researchers are now exploring the mechanisms and processes by which events in childhood can lead to mental health problems years later.    For example, in an attempt to generate a genuinely integrated psycho-socio-biological approach,3 the traumagenic neurodevelopmental model9 of psychosis (proposed by J.R. and colleagues) draws on the evidence that the biochemical and structural abnormalities found in people diagnosed with schizophrenia, which have often been portrayed as evidence of a 'brain disease', are also found in the brains of traumatised children.

Recent studies have demonstrated that a wide range of adversities, and not just sexual abuse, are predictors of many forms of mental ill health.  Some of these adversities have been shown to be intergenerational, so that parents who themselves suffered in childhood struggle to provide an optimum environment for their own children.

I don't know whether you caught it, but Radio4 Womans hour recently interviewed Countess Bathurst, the former High Sheriff of Gloucestershire who is one of the founders of the WI group at HMPrison Eastwood Park.  Sarah claimes that "before I started work as high sheriff I was old-school.   I really believed that if somebody was in prison, they'd done something wrong, that's where they needed to be.  But, I have been so re-educated and I have learnt so much about the larger picture, about the background of these women, what they've gone through and the challenges that they've faced throught their lives which have led them down this enormous mentally destructive path.   Nobody wants to go to prison, sometimes they find themselves on this dreadful rollercoaster ride, it's rather like gong down the bob sleigh, your going down faster and faster, there's no brakes and there's no way of getting out of it until you spin out of control and that's what happens.  For most women, going into prison is a huge shock.  Many of them go in for a first offence, a third of women in prison have spent time in care as a child."

And she speaks about this subject at the same time that The British Medical Association have published a report on the vital role doctors have to play in preventing vulnerable children and young people ending up in custody  Young lives behind bars: The health and human rights of children and young people detained in the criminal justice system, sets out how doctors can recognise risk factors for future offending and seize the opportunity to intervene.

Writing in the Foreword to the report, Juliet Lyon, Director of the Prison Reform Trust, said: "The Prison Reform Trust commissioned a study of children in prison to learn more about the 6,000 children who went into some form of custody in the six months from July to December in 2008.  Many had unmet mental health needs or a learning disability or difficulty.  A depressingly familiar story for health and justice professionals and others who care for vulnerable young people."

Imagine if, through the simple act of nurturing our young we could actually obliterate crime and even remove the requirement for a prison system altogether? Could we manage to create a new, crime-free and compassionate, loving society in just one generation?

The future of our society is now firmly in our hands; whether we're nursery nurses, school govenors, mothers, classroom builders, teachers, headmasters, doctors, nannies and childcare workers.  

Make no mistake about it, the early years childcare arena is the most critical for creating a well-balanced, caring, compassionate, prosocial, happy, productive society.

If you're a school or nursery, and you're looking to implement a new learning, sensory or functional action zone environement, please speak to us, we are incredibly passionate about how we can be of service to you, to create your physical nurturing space.

We can't alleviate all of the worlds problems in one day, but cocooning children in a warm  and protective timber-framed Roundhouse is a good place to start.
Grant Funding to improve your local green space from Tesco – just a little way in which you may be able to secure additional funds to form part of your Rotunda project:
Bags of Help is Tesco's local community grant scheme where the money raised from the 5p bag levy in Tesco stores is being used to fund thousands of community projects across the UK. The projects must meet the criteria of promoting community participation in the development and use of outdoor spaces.

Bags of Help is administered by Groundwork and supported in Scotland by greenspace Scotland, have local Enablers across the country who can assist you with your application form.

Bags of Help is now is always open to applications from community projects.

Groundwork assesses all of the applications received to ensure they are eligible. This is followed up by Tesco shortlisting groups who decide which projects go forward to the in-store vote.

Three local community projects will be voted on in Tesco stores each month across Tesco regions throughout England, Scotland and Wales. In each region, the project that received the most votes from all stores in their region will receive a grant of up to £5,000. The second placed project receives up to £2,000 and third placed up to £1000. Every year, over 7000 projects will receive funding through this scheme.

Local Enabler for the Greater Manchester region, Liz Edwards said "this is a great opportunity for schools and community groups to  take forward projects which will enhance their green spaces and find creative ways to increase their use of these"
Examples of the kind of projects groups can obtain funding for include improvements to playgrounds, paying for specialist training and support such as a Forest School Leader to work with your group, installing raised beds and seating to allow your group to grow food crops, buying in plants and seating and installing new paths to improve access to your site.
For more details and to check your project/group is eligible please check the location of your nearest Tesco store and complete the eligibility checker  www.groundwork.org.uk/Sites/tescocommunityscheme/pages/Category/apply-for-a-boh-grant-tes2 and don't forget to request help from your local enabler.
Meet the MD of Rotunda Roundhouses
This week we are blogging about Philip Kay, the Managing Director of Rotunda Roundhouses Ltd and his views on our product, clients and the industry in general.
So, Philip. Could we ask a little bit about your background?
Well, generally I've spent the last 39 years building properties or within property refurbishment (from age of 21) together with manufacturing furniture and cabinetry.
And how long have you been acting as Managing Director for Rotunda Roundhouses Ltd?
"Two years – and it's flown by!"
What is it that you believe your company can bring to the industy that no other business can?
No one else is building roundhouses for a start,  they don't understand the concept of how beneficial they are for both educational purposes and how economical they are to run.
When you say "Roundhouse" what do you mean?
"Buildings for schools, hospice, the leisure sector (hotels),  granny flats and recently, nurseries"
Why a roundhouse over a rectangle?
"…..well, a lot of this is down to aesthetics to a lot of people. The roundhouse is a very unusual form in the modern construction marketplace and as far as I am aware we are the only people that exclusively build in the round.  However, it can't be denied that the majority of our clients are quite spiritual and see the circle as the most natural form."
When you say "Spiritual" Are you saying it's a metaphyscical or energetic attraction for some folk?
"I think that some people feel a connection to the past, to how ancient civilisations lived.. so, we're very much interested in bringing this back into the forefront."
So.. history is coming back round again?
Definitely. Absolutely."
Is there a particular build over the last 2 years which you've enjoyed the most?

"Well, that's difficult to say, because all of our buildings are so different that each build has it's own different aspect that you derive a certain amount of pleasure from building.  The fact that we don't build two that are any alike it's really great to get them on the drawing board and see how they develop."
And what is the most bespoke element to date which has been incorporated into a Rotunda?
"Well, we've made bespoke furniture for several of our clients, we have changed timber species for cladding, the cathedral roof beams and windows and we've recently been looking into Oak and Sweet Chestnut as alternative British Hardwoods for our walls and roof finishes.
So, do you give clients a standard build specification or do they have carte blanche to design a Rotunda exactly to their vision?
"Well, there's a guideline build spec with our standard finishes and prices, but at the end of the day we are flexible and do allow our clients to adjust their building design to suit their particular needs."
Of all of the applications what's your favorite finish?
"….for me personally, I like the Eco-tiles Flexi slate composite roof, when I see them (and being a past builder) I think they look identical to a slate roof.  On the inside I love the T&G wall panels.   Our new internal cathedral beams look absoutely beautiful, they are what people most recognise about the Rotunda."
As an organisation where do you think you're going and where is the industry going over the next five years?
"As a young company we are able to go where the industry starts to lead us. In other words, if it's the glamping industry that's bringing us the most enquiries we can work very well here; but we're currently responding to a surge in enquiries for Nursery Buildings alongside work we've already completed for commercial clients such as a hospice and Primary schools….. So, because we are a young company we'll respond to the enquiries that come through rather than dictate the direction of the company or the application of the product.  (As long as we have the capacity in the workshop to build it!)
Does this mean that you provide a tailored response to the enquiries that you receive? Ie: if someone doesn't quite know what they want or how to go about the planning process do you manage the project as a turnkey for them?
"Well, considering I've been building houses since I was 21 (that's 40 years!) I can certainly give them all the advice they're going to need.   We can assist with groundworks and we do assist with the complete process from groundworks all the way to the furniture and even the creation of bespoke windows and doors."
Are there any exciting projects that you're currently working on?
"Well, we've got several exciting projects in the pipeline and one of the most unique ones is a bespoke roundhouse with a Japanese flavour; you'll notice that the roof shape is changing, and a deep, round, japanese bath is being installed….. the door frames will be created with japanese frames above and around them.  Coupled with bamboo floors with subtle interior design and fabrics – this should be a very special building and we're all very excited to see the end result.
So, a Japanese Rotunda! Will this then be available to other clients?
"Well, of course, we love the fact that each building is unique so, in some form or other – if we can build it and you can imagine it, there is no reason why we can't build others."
And what about the materials? Do you have a sustainability policy?

"Well, we are very proud of the fact that our timber comes from verifiable UK sustainable sources and sawmills. We source recycled and part-recycled materials whenever possible and we are using the sedum (green) roof application on most of our builds nowadays.
Thank you so much Philip!!!  It's been really lovely talking to you, I hope that our blog readers find this useful and look forward to hearing more about the progress of Rotunda over the coming few months and years. 
"Well, I'm always on the end of the line – if anyone has any specific questions about our previous work, we always pass the details of our previous 6 clients over to new enquirers so they can verify the quality of our work and our professionalism as an organisation.  I'm only too happy to help!"
If you were to drive for 1hr 30 mins from Montpellier or Nîmes and deep into the Cevennes Mountains, you may just stumble across Gardoussel; a small, family-run retreat specialising in creative and holistic holidays. Husband-and-wife team Alex and Sharon live on-site with their young family and are helped in the day-to-day running of events, particularly cooking, by Alex's mother Frances.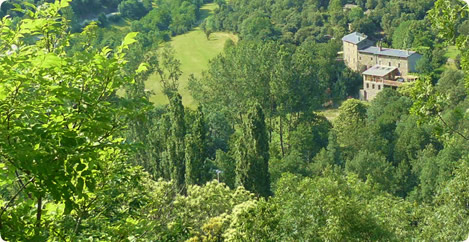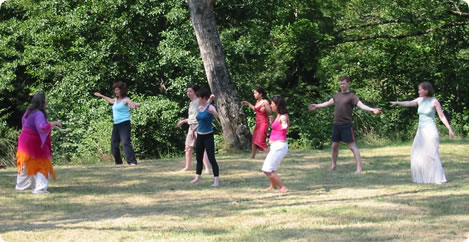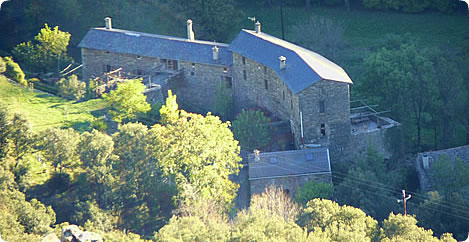 Up until recently they had Gites and Yurts on offer to their guests… until last week! When the Rotunda team arrived.  The first of such expeditions, the Rotunda and three of our men bravely ventured where no other installer from the UK has before.  Despite a few initial hiccups with the British haulage agency everyone arrived on site last week , ready to start building the first French Rotunda "Gaia".
  The retreat is so remote that the panels had to be transferred on the main road from the arctic vehicle to a small trailer in order to make the journey down the small driveway to "Gardoussel".
And here comes the team……  Over the bridge and towards their final destination. (After three days of travelling!) Our Rotunda van is in uncharted territory!
… Our Joiner (Johnny) is clearly enjoying the novelty of being so far from home and has made a new friend already!
This garden room is going to be used as a yoga space and gathering room & it should not cause too much of a stir within the local community as this special building is of a striking similarity to a pre-existing local building in the round called the "pigeon tower".
Look at that 'witches hat' roof….  magnifique!  We love it!
So, once "landed" the floor panels are assembled and affixed onto the prepared concrete slab which Alex and Sharon had kindly prepared in advance!
And of course…. stepped back to have a look at the view!  Oh wow…. what a position for that bell tent!
So the build is underway… the roof trusses are next to go up, after the wall panels are positioned and secured:
… Oh… did we mention the VIEW!?
And… voila! The building is watertight… and ready for some internal work…
You're almost there guys…. keep up the good work and have fun with your new friends at Gardoussel!
We'll update you again… when the gorgeous "Gaia" is complete!
Until then, bonsoir!
From all at Rotunda
x